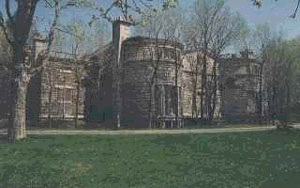 Gelston Castle is a limestone mansion near Jordonville, New York. The mansion, possibly a replica of a castle called Gelston in Scotland, was built between 1834 and 1836 by Harriet Douglas Crugar.
When she died, she left the castle to her niece, Fanny Monroe (1824-1906), the grandniece of President James Monroe. Fanny Monroe left the castle to her son Douglas Robinson who married Corrine Roosevelt, the sister of president Theodore Roosevelt. Reputedly, three presidents, James Monroe, Theodore and Franklin Roosevelt who were related to the family visited the castle. The last owner was the noted Russian Cellist Mstislav Rostropovitch who purchased the property in 1979.
Harriet Douglas was the daughter of George Douglas and Margaret, daughter of Captain Peter Corne.
Sir William Douglas, 1st Baronet of Castle Douglas built Gelston Castle in Scotland. Is there a connection?
Read more:
http://www.dupontcastle.com/castles/gelston.htm