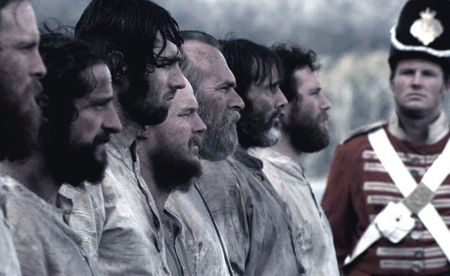 Banished is a British drama television serial created by Jimmy McGovern. The seven-part serial first aired on 5 March 2015 on BBC Two and was inspired by events in the eighteenth century when Britain established a penal colony in Australia.
Set in the first penal colony founded by the British in New South Wales, Australia, in the year 1788; in which the British convicts live alongside their Royal Navy marine guards and their officers.
Major Sholto Douglas wasn't far behind, as departing from England in June 1828 for Van Diemen's Land, he administered command of the 63rd Regiment until superseded in March 1830. Apart from guarding convicts, the regiment engaged in anti-guerilla operations in the 'Black War' against Tasmanian Aborigines. In October-November 1830 Douglas led over 1000 soldiers and armed civilians in the 'Black Line' sweep of the colony from north to south, to drive warlike tribes into Tasman Peninsula. The operation was planned and commanded by the lieutenant-governor George Arthur and not, as some historians have claimed, by Douglas.
Not a happy episode in Douglas history. Read more>>>