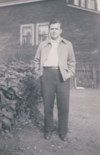 Edward J. Douglas, (Dlugosz) 85, passed away after a long illness at Newark Beth Israel Medical Center on his birthday, July 20, 2012. 
There is a wonderful photograph album, of which this photo is just one, attached to his obituary. It would be nice to know who all the family members are, but sadly they are not captioned. But worth having a look>>>
It would also be interesting to understand '(Dlugosz)'.  Did he change his name, perhaps on arriving in the USA?